April 5th, 2011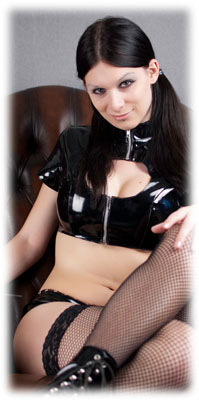 Yes, I promise she has a cock! You should know by now that I don't feature shemales very often, and hopefully you're here because like me you appreciate the clothing and trappings of femininity that shemales cast aside so quickly in order to show off their plastic bodies. I maintain this blog to celebrate crossdressing and the feminine fantasies that accompany it. I do, however, really like Hannah Sweden. She looks a little less plastic than the other trannies out there (albeit she has some rather large silicone boobs, but at least she got a good plastic surgeon!). And she wears some awesome outfits that I'm personally a little jealous of.
.
In these photos Hannah is dolled up in an exquisitely tight latex halter top, fishnet thigh highs, and some mid-calf "I mean business" boots. I'm pretty sure most gg's couldn't pull off the look as well as Hannah does – if you didn't peak at her other photos, you'd never know she has a cock. Hannah's free galleries are a little sparse, but of course the whole point is to get you to join the site, right? So you can't fault her too much for saving her best content for her members I guess.
.
Hannah Sweden is worth a look even if trannies aren't your thing. And if you do love shemales, I have a feeling you might be signing up after meeting this this hot girl.